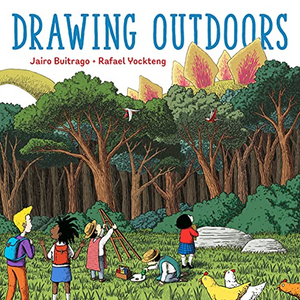 Drawing Outdoors
Age Range: 3 - 4
Age Range: 5 - 7

"This inspired story about the magic of art, nature, and educators is a breath of fresh air."-Booklist
Let's all draw dinosaurs outdoors!
In this remarkable picture book, a group of students spend an unforgettable day drawing dinosaurs outside with their extraordinary teacher.
Maybe your school has a playground, gym, computers, and a library. But at this school in a faraway mountain range, things are a little different. There's a blackboard, some chairs and not much else. But with the help of an extraordinary teacher and a little imagination, anything is possible!
The students in this spirited picture book spend their days drawing dinosaurs outdoors. They draw astounding, spectacular creatures that come to life before their eyes, and turn their school into a wondrous place, where any child would want to go and learn.
Drawing Outdoors celebrates the amazing impact of teachers, and the wonderful worlds kids can create while drawing. A perfect gift for a beloved teacher, kids who love dinosaurs, and aspiring artists!
An Aldana Libros Book, Greystone Kids
---