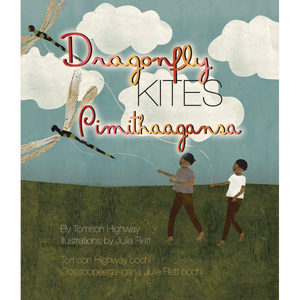 Dragonfly Kites
Age Range: 3 - 4
Age Range: 5 - 7
Age Range: 8 - 11

Dragonfly Kites is the second book in Tomson Highway's magical Songs of the North Wind trilogy. Like Caribou Song, it has a bilingual text, written in English and Cree. And Highway once again brilliantly evokes the very essence of childhood as he weaves a deceptively simple story about the power of the imagination.
Joe and Cody, two young Cree brothers, along with their parents and their little dog Ootsie, are spending the summer by one of the hundreds of lakes in northern Manitoba. Summer means a chance to explore the world and make friends with an array of creatures.
But what Joe and Cody like doing best of all is flying dragonfly kites. They catch dragonflies and gently tie a length of thread around the middle of each dragonfly before letting it go. Off soar the dragonflies into the summer sky and off race the brothers and Ootsie too, chasing after their dragonfly kites through trees and meadows and down to the beach before watching them disappear into the night sky.
But in their dreams, Joe and Cody soar through the skies with their kites until it's time to wake up.
by Tomson Highway, illustrated by Julie Flett
---