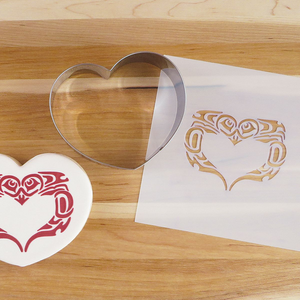 Cookie Cutter and Stencil Set - Love Birds
Now it's easier than ever to get professional cookie decorating results! This set includes a 4.1" x 3.4" stainless steel cookie cutter and one food grade stencil to fit the cutter along with a decorating instruction sheet. Stencils are cut on 10 mil food grade plastic for durable repeat use.
Motif: Eagle,Raven
Artist: T.J. Sgwaayaans Young
Affiliation: Haida
T.J. Sgwaayaans Young, Haida
"Love birds represent the spirit within our community and our connection to the land."
---