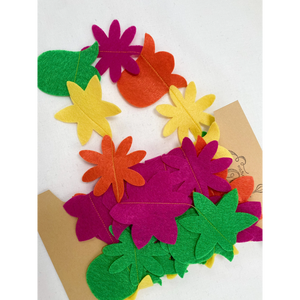 Bright Floral Felt Garland Flowers
Keep the magic of a sunny garden picnic alive all year round with these delightful garlands. Perfect for hanging over ones bed, or brighten any room.

Details

This garland is sure to delight garden lovers both young and old. They will brighten up any living room, bedroom or nursery with their vibrant colours. Make back to school more fun by hanging a garland in the classroom.

This handmade fall felt garland measures approximately 110 inches long and 2 inches tall. They have yarn sewn onto the ends so they are easy to tie around thumbtacks or nails, onto bed posts, or either end of a fireplace. The felt is made from eco-friendly 100% recycled polyester, a durable material created from recycled bottles. The string is an acrylic yarn and the thread is polyester.
---