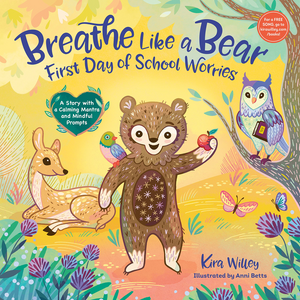 Breathe Like a Bear: First Day of School Worries: A Story with a Calming Mantra and Mindful Prompts
Age Range: 3 - 4
Age Range: 5 - 7
Age Range: 8 - 11

A companion picture book to
Breathe Like a Bear
that helps kids feel calm and ready to meet new classmates!


Bear can't wait to go to her first day of school. But she and a few of her friends are also feeling a little anxious. Luckily, Owl has the perfect words for them all to say to calm the jitters and help them recognize the similarities we share under the trappings of our uniqueness. 

Introducing a mantra for first-day—and any-day—worries,
Breathe Like a Bear: First-Day-of-School Worries
uses an easy-to-follow breathing exercise, mindful prompts, and a soothing mantra that will help kids navigate their anxiety long after the final page. This prescriptive and teachable picture book is an invaluable tool for every child's early social-emotional education.
---