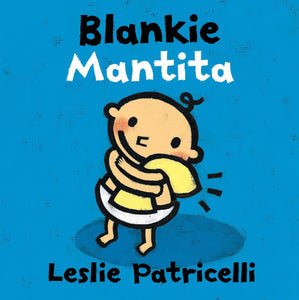 Blankie- Mantita
Age Range: Babies
Age Range: 1 - 2

Children will easily recognize the deep bond between the child and the beloved object . . . this offers a warm, comforting view of a toddler's daily world." — Booklist

Anyone who's spent time with a toddler knows that few crises compare with the (even temporary) loss of a favorite blankie. Here, in her humorous, bold graphic style, Leslie Patricelli plays up this scenario, surely near and dear to every toddler's heart. It's an affectionate ode to that special object that comforts many a child through the dramas of each day. Now available in a dual Spanish-English edition!


Conoce a Mantita, la mejor compañera que un niño puede tener.
---