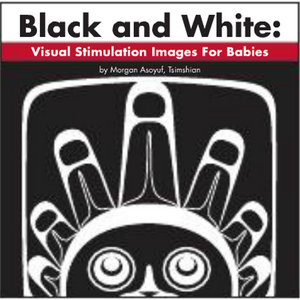 Black and White: Visual Stimulation Images for Babies
Age Range: Babies
Age Range: 1 - 2

The crest system of the Pacific Northwest is what gave rise to the Northwest Coast art form. Crests depict the deeper story of our Peoples' familial ranks and migratory paths.
Beyond my personal interest in historical art and the processes that create it, I also care deeply about the forwarding of traditional Tsm'syen art and culture.
When my baby was one month old I wanted her to be able to look at black and white images from her Tsimhsian culture. As babies develop sight, they can best see high contrast images and patterns. Exposing them to black and white artwork stimulates brain growth and visual devleopment.
I spent two months developing my drawings and testing them on her. Interestingly, she had clear favourites and would be more excited for certain images.
Northwest art has a healing and mesmerizing effect for all ages and I believe viewing it from a young age will create a varied cognitive development.
What a wonderful way to introduce children to a lifetime of reading!
Morgan Asoyuf (nee Green), Tsimshian

---