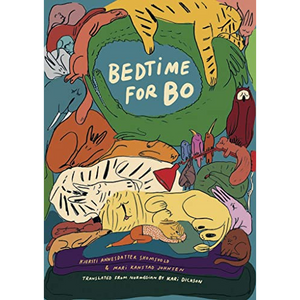 Bedtime for Bo
Age Range: 3 - 4
Age Range: 5 - 7

A 
New York Times
/New York Public Library Best Illustrated Children's Book of 2022 
★
Stretch like a giraffe and snuggle like a meerkat with Bo and Mommy as they get ready for bed!
It's time for bed, but little Bo isn't ready to stop playing quite yet! As his mother gamely guides him through his nighttime routine, he imitates various animals—a hibernating bear after eating a snack, a snuggling sea otter when taking a bath, a coiled python while curling up under the covers… Mommy joins in on the fun and keeps one step ahead of Bo until he falls asleep, soaring like a bird into the world of dreams.

A lively and imaginative take on getting ready for bed that celebrates creative family play and the joyous love between mother and son.
---