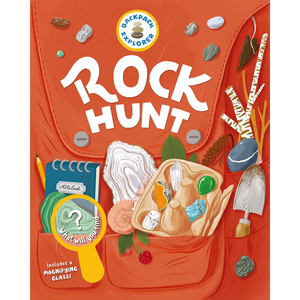 Backpack Explorer: Rock Hunt: What Will You Find?
Age Range: 3 - 4
Age Range: 5 - 7

The latest addition to the best-selling Backpack Explorer series (455,000 copies in print) invites kids ages 4 and up to head outside and find, collect, and learn about rocks with this take-along activity book! 
Backpack Explorer: Rock Hunt
is packed with prompts and activities, including: 12 interactive field guide pages introducing rock classifications (color, shape, size, texture); sensory scavenger hunts; hands-on outdoor creative activities; rock experiments; and discovery zone pages with facts about geology, landforms, igneous and metamorphic rocks, gems, fossils, and more. The book includes a real magnifying glass, stickers, and a log for recording rock finds, making it the perfect explorer guide for budding geologists, whether in a backyard, a city park, or a nature preserve.
---