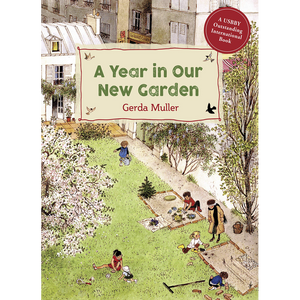 A Year in Our New Garden
Age Range: 3 - 4
Age Range: 5 - 7

Anna and Benjamin's family have just moved to a new house and can't wait to turn their messy yard into a beautiful garden, but first they must plan, plant and learn how to care for it.
With the help of their neighbor Louis, the children grow beautiful flowers and tasty vegetables and discover the amazing wildlife living in their new garden.
As the seasons change, Anna and Benjamin learn about all the wonderful things you can do in a garden: planting, harvesting, playing, enjoying picnics and spotting insects.
Alongside the charming story, A Year in Our New Garden also gives real gardening tips accompanied by beautifully detailed illustrations. This delightful and lively book will inspire children to get outdoors, be active and learn how nature changes around them through

---