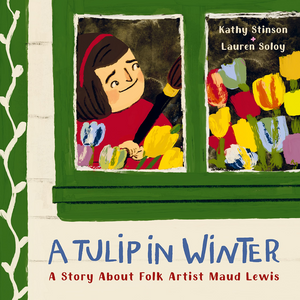 A Tulip in Winter: A Story About Folk Artist Maud Lewis
Age Range: 5 - 7
Age Range: 8 - 11

A celebration of a beloved folk artist, and her artistic expression of joy and beauty.
Known for her vibrant and cheerful paintings of landscapes, plants, and animals, Maud Lewis' iconic folk art is celebrated around the world. Despite her beautiful art, she spent much of her life living in poverty with rheumatoid arthritis. In this stunning picture book, author Kathy Stinson and illustrator Lauren Soloy bring Maud's world to life: how she captured in her art what she loved most, while navigating the mobility issues caused by her condition. From bright paintings of the sea and countryside, to the flowers and birds she painted on the walls of the small house she shared with her husband, Maud's work continues to delight and inspire viewers young and old.
A Tulip in Winter features:
Backmatter about Maud Lewis' life and legacy

Notes from the author and illustrator about how Maud has impacted their lives
Uplifting and visually compelling, Maud's story will inspire young readers to find and focus on the beauty in their worlds.
---