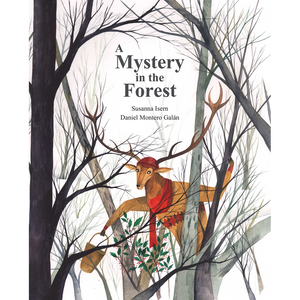 A Mystery in the Forest
Age Range: 5 - 7
Age Range: 8 - 11

A new adventure of The Lonely Mailman's beloved characters. A charming tale, printed in stone paper, that invites readers to think about the emotional impact of jealousy, the importance of empathy, and the ability to forgive.
Deer wakes up every morning at the break of dawn, when the sun begins to rise and illuminates the entire field. Deer's daily routine consists of harvesting seasonal fruits: winter is the time for oranges, pears and apples, spring for strawberries and cherries, summer for raspberries and figs, and autumn is for chestnuts and hazelnuts. And you may wonder ... What does Deer do with all those fruits? You see, Deer loves to cook with all the ingredients that he collects every morning, but what makes him extremely happy is to gather all his friends and share his elaborate dishes with them.
One morning like any other, Deer starts his daily route, but someone seems to have already been there… Worried, Deer decides to go home, and what a surprise! The house is turned upside down and… someone has stolen his precious Secret Recipe Book! Do you dare to discover this great mystery?
---