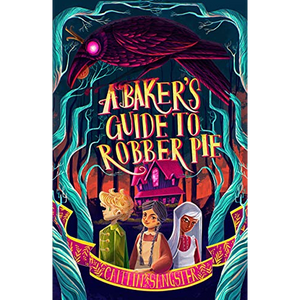 A Baker's Guide to Robber Pie
Age Range: 8 - 11
Age Range: 12 - 14

A clever young girl looking for adventure gets more than she bargained for when she stumbles into a nest of robbers in this tale baked with magic, fun, and friendship!

Evie Baker is a great story-teller, an avid prankster, and a fantastic baker. And while she loves her parent's bakery, she has no plans to stay in their small town and become stuffy or static. Evie wants to go on adventures and she knows just what she needs to do it!

With her best friend, Cecily, by her side, Evie sets off into the Old Forest to find one of the Fel, a group of crow-like magical creatures who can't lie. She is sure her family's irresistible raspberry tart and a carefully crafted deal will get them to take her on a magical adventure―without getting her eaten or worse. But the forest hides many dangers and when they finally find their Fel, they also discover a nest of robbers!

Having seen the Robber Lord's face, Evie is whisked away into hiding for her own protection. But even in the queen's own city, trouble has a way of finding her…

YA novelist Caitlin Sangster makes her middle-grade debut in A Baker's Guide to Robber Pie, a fun fairytale filled with adventure, friendship, baking, and the power of a tale well-told.
---