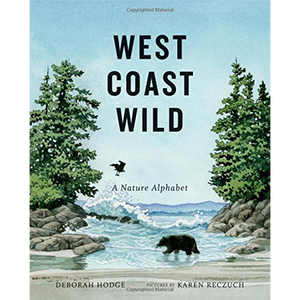 West Coast Wild: A Nature Alphabet
Age Range: 3 - 4
Age Range: 5 - 7
Age Range: 8 - 11

This stunning nature alphabet book explores the fascinating ecosystem of the Pacific west coast ― a magnificent area that combines an ancient rainforest, a rugged beach and a vast, open ocean, and where whales, bears, wolves, eagles and a rich variety of marine species thrive in an interconnected web of life.
Author Deborah Hodge has spent more than forty years on the west coast, frequently visiting the Pacific Rim region, and she knows it intimately. From A to Z she describes in vivid language the rainforest, ocean and beach, and a great variety of animals that a child might see walking along the shore ― from tiny sea jellies to inquisitive sandpipers to leaping orcas. Illustrator Karen Reczuch brings her remarkable talent to the book, and has created image after image that is simply breathtaking. The text and art have been carefully checked for scientific accuracy.
Includes a note about the Pacific west coast and suggestions for exploring the region and further reading.
---