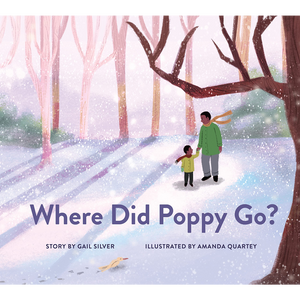 Where Did Poppy Go?: A Story about Loss, Grief, and Renewal
Age Range: 5 - 7

"How do we answer children's questions about the cycle of life? This book is the perfect resource."
—Hunter Clarke-Fields, MSAE, RYT, author of
Raising Good Humans


After a grandfather, "Poppy," dies, a father and son journey forward through seasons and time, discovering how our loved ones remain with us even after they pass on.


From beloved author Gail Silver of the
Anh's Anger
series comes a touching story of a father comforting his son after a grandfather, "Poppy," dies. The lovely rhyme and poetry offers a heartfelt way to discuss loss and grief with a child. We see, along with the little boy of the story, how our loved ones are with us forever, in everything we do. 

Beautiful textured pastels carry the reader through the seasons as the father describes the cycle of life, and all of the beauty and sadness that comes with it.
---