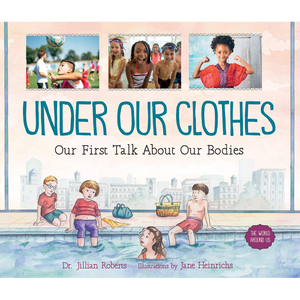 Under our clothes
Age Range: 5 - 7
Age Range: 8 - 11

This illustrated nonfiction picture book by child psychologist Dr. Jillian Roberts introduces children to the topics of bodies, body safety and body image through a conversation-based story that begins with an observation at the community pool. Modesty, privacy and boundaries are discussed, along with how self-image is formed and how some people are more sensitive than others―sometimes at different stages in their lives. Relevant themes around body shaming, body positivity and self-esteem building are explored, with a final call to action empowering children to build their own confidence and speak up when something doesn't feel right.

The World Around Us series introduces children to complex cultural, social and environmental issues that they may encounter outside the comfort of their homes, in a way that is straightforward and accessible. Sidebars offer further reading for older children who have bigger questions or care providers looking for more information. For younger children, the simple question-and-answer format of the main text will provide a foundation of knowledge on the subject matter.

This is the newest title in The World Around Us series, following books that address poverty, tragedy, prejudice and online awareness and environmental stewardship.
---