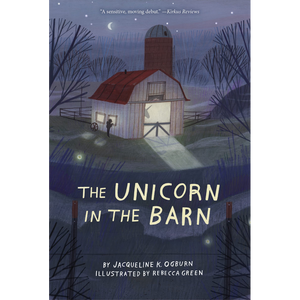 The unicorn in the barn
Age Range: 5 - 7
Age Range: 8 - 11

Called an "enchanting, compassionate tale" by
Booklist
, this tender and illustrated middle-grade fantasy about a boy and the unicorn that changes his worldview is perfect for fans of
Hello, Universe 
and Katherine Applegate. 


For years people have claimed to see a mysterious white deer in the woods around Chinaberry Creek. 
 
One evening, Eric Harper thinks he spots it. But a deer doesn't have a coat that shimmers like a pearl, or an ivory horn curling from its forehead.
 
When Eric discovers the unicorn is hurt and being taken care of by the vet next door and her daughter, Allegra, his life is transformed. He's thrust into a world of magical creatures just as his world at home starts to crumble.
 
A tender tale of love, loss, and the connections we make, 
The Unicorn in the Barn
shows us that sometimes ordinary life can take extraordinary turns.
---