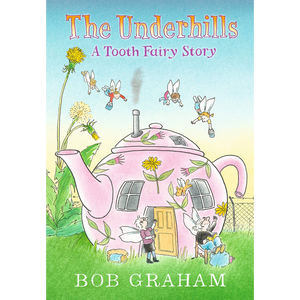 The Underhills: A Tooth Fairy Story
Age Range: 3 - 4
Age Range: 5 - 7
Age Range: 8 - 11

In a captivating follow-up to
April and Esme, Tooth Fairies,
a master of whimsy sends his tiny heroines on another adventure.


With their parents off on an urgent molar pickup, April and Esme are ready for a cozy overnight at Grandma and Grandpa's teapot house by the airport fence. There will be fairy cakes to mix, pancakes and syrup for breakfast, a chocolate on each of their pillows. But then a call comes in about a small girl in a red coat, arriving from Ghana with a baby tooth somewhere in her pocket. Could this be a job for April and Esme, tooth fairy sisters? As always with Bob Graham, the beauty is in the details: Grandpa working out with a giant teabag-turned-punching-bag; fellow winged creatures hovering above the airport terminal (cupids to help people meet and angels to comfort the sad arrivals). Merging humor, poignancy, and a bit of heart-fluttering suspense, Bob Graham turns a familiar moment of childhood independence into a thing of magic.
---