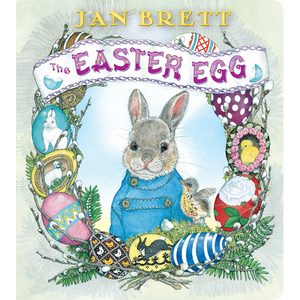 The Easter Egg
Age Range: 1 - 2
Age Range: 3 - 4

Jan Brett's beloved Easter tale about kindness is now available as a board book - the perfect size for Easter baskets!

If Hoppi can make the best Easter egg, he will get to help the Easter Bunny with his deliveries on Easter morning. But it is not so easy. Discouraged, he goes into the woods to think when a blue robin's egg tumbles out of its nest. Hoppi keeps it safe and warm until the baby bird hatches. When the Easter Bunny arrives and Hoppi presents the empty blue eggshell, the Easter Bunny declares it the very best one to reward Hoppi for his kindness.

Spring is everywhere in gorgeous illustrations framed with pussy willows, flowering vines and flowers. Side borders feature busy rabbits making their unusual eggs and, in a border above, the Robin's family drama unfolds.

Jan Brett's lovable bunny hero and her remarkable Easter Bunny will enchant young readers.
---