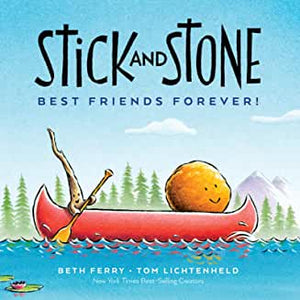 Stick and Stone Best Friends Forever
Age Range: 3 - 4
Age Range: 5 - 7

This ode to unconditional love is a brand new adventure for New York Times best-selling BFFs Stick and Stone, in which Stick searches for his family tree and discovers the importance of found family and forever friends.

Stick has always wanted to find his family tree. It's probably big and beautiful! Is it an oak? A maple? What other sticks might he meet?

Stone is happy to accompany his friend on the journey to find the tree he comes from—until it gets dark, and a bit scary in the forest . . .

With bright, engaging illustrations from best-selling creator Tom Lichtenheld, Beth Ferry's story explores the importance of learning about our roots, as well as the ability of friends and found family to help us grow strong in heart and mind.
---