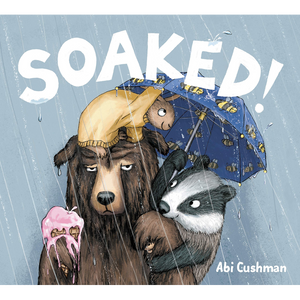 Soaked!
Age Range: 3 - 4
Age Range: 5 - 7

A Hula-Hooping moose, a badger with a bumblebee umbrella, a rabbit in a cashmere sweater, and a very wet bear star in this unpredictable and laugh-out-loud picture book in which having fun gets the best of a grumpy bear.


It looks like a wet and dreary day for Bear and his trio of friends. How could he possibly have fun when he is soaked? But Badger, Rabbit, and Moose don't seem to mind. In fact, Moose can still hula hoop! And it looks like so much fun. Might Bear like to try?

Here is a story that shows that fun is not dependent on sunshine and blue skies. In fact, it might be more fun to be soaked!
---