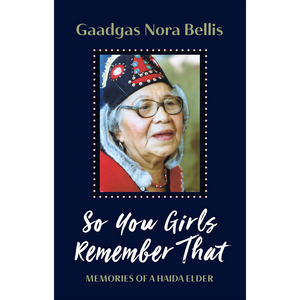 So You Girls Remember That: Memories of a Haida Elder
Age Range: Adult

Collected wisdoms, reflections and stories from Indigenous Elder Naanii Nora of the Haida Nation.
So You Girls Remember That is an oral history of a Haida Elder, Naanii Nora, who lived from 1902 to 1997. A collaborative effort, this project was initiated and guided by Charlie Bellis and Maureen McNamara and was years in the making. The resulting book, compiled by Jenny Nelson, is a window into Nora's life and her family―from the young girl singing all day in the canoe, bossing her brothers around or crossing Hecate Strait on her dad's schooner, to the young woman making her way in the new white settlers' town up the inlet, with music always a refrain. These are stories of childhood; of people and place, seasons and change; life stages and transitions such as moving and marriage; and Haida songs and meanings.
This book also contains the larger story of Nora's times, a representation of changing political relationships between Canada and the Haida people and a personal part of the Haida tale.
What ultimately shines through is Nora's singular and dynamic voice speaking with the wisdom of years. For example, on giving advice she says: "I like to give anybody advice because when you're young you don't know nothing on this world. What's coming; what's going … You have to remember it's a steep hill; you're right on the top. You slide down anytime if you don't be careful."
This is a work of great generosity, expressing Nora's spirit of living―her joy, humour, spirituality and resourcefulness; her love of children, music and social life; her kindness, strong will and creativity; and her spirit that has nurtured a community and endures to this day.
---