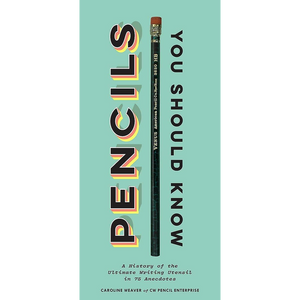 Pencils You Should Know: A History of the Ultimate Writing Utensil in 75 Anecdotes (Gift for Creatives, Vintage and Antique Pencils throughout History)
Age Range: Adult
Age Range: 15 - 17

Pencils You Should Know
traces the evolution of pencils over time and across the globe.
From the humble, handcrafted pencil of the 19th century to the novelty writing implement of the 1990s, each object in this book tells a different story.


This book features a selection of 75 modern and vintage pencils curated by pencil powerhouse Caroline Weaver, owner of legendary New York pencil emporium CW Pencil Enterprise.
Pencil fanatics will find old favorites here—the original Blackwing 602 puts in an appearance, of course—and make exciting new discoveries, too.

• The long, skinny book was designed to emulate a brand new box of pencils.
• Vintage pencils and accessories are photographed against vibrant, colorful backgrounds and accompanied by Weaver's insightful commentary.
• A pocket-sized love letter to one of the most important inventions in human history


This supremely charming little book celebrates the enduring magic of the pencil.
Trace the history of the pencil over time and across the globe, and discover everything you need to know about this simple yet ingenious invention.


• A great book for pencil collectors, admirers, historians, artists, writers—anyone who gets excited about the new Palomino Blackwing, a perfectly sharpened No. 2 Ticonderoga
• Fans of
The Pencil
by Henry Petroski,
How to Sharpen Pencils
by David Rees and John Hodgman, and
The Pencil Perfect
by Caroline Weaver will want this in their collection.
• The perfect gift for pencil devotees, analog and vintage ephemera lovers, designers, and fans of CW Pencil Enterprise
---