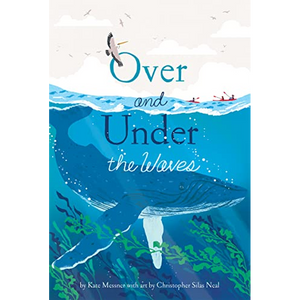 Over and Under the Waves
Age Range: 5 - 7
Age Range: 8 - 11

Explore the wonders and beauties of the ocean's kelp forests in this latest addition to the acclaimed Over and Under series.


Award-winning duo Kate Messner and Christopher Silas Neal return in this latest addition to the Over and Under picture book series, this time exploring the rich, interconnected ecosystem of the ocean!

Over the waves, the sea lions bark and seagulls wheel and call. The bay is smooth and bright in the sun. But under the waves, there's a whole hidden forest, full of whales and wolf eels, sardines and sea bass, leopard sharks and luminous jellies, as well as the waving kelp that shelters them all. Discover the magical depths of the kelp forest, and all the fascinating creatures living just a paddle's length away—over and under the waves.
---