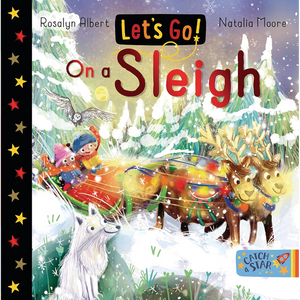 Let's Go on a Sleigh
Age Range: Babies
Age Range: 1 - 2
Age Range: 3 - 4

Join these fabulous friends as they go on a sensational sleigh ride through a winter wonderland.
"Let's go on a sleigh ride and race across the snow / The reindeer guide our sleigh tonight. Oh, how their noses glow!"
Get ready to snuggle in a sleigh with these fun friends and ride through wintry forests. With lots to spot and see from friendly reindeer, little igloos, the Northern Lights, and even Santa and his elves, there's no end to the excitement of this sleigh ride.
This fun, rhyming book for toddlers is vibrantly illustrated and includes a diverse set of characters. A perfect introduction to transport for young children.
---