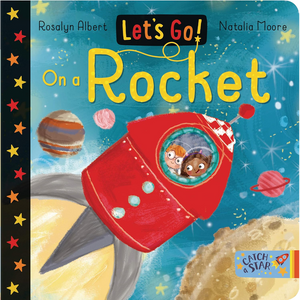 Let's Go on a Rocket
Age Range: Babies
Age Range: 1 - 2
Age Range: 3 - 4

Join these fabulous friends as they go on an exciting rocket ride.
"Let's go on a rocket / Up high into space, / Where I can see the planets / And the moon's big smiley face!"
Zoom into space in a rocket! Flying between the stars, landing on the Moon and even meeting an alien, there's no end to the excitement of this rocket ride!
This fun, rhyming book for babies and toddlers is vibrantly illustrated and includes a diverse set of characters. With lots to spot and see on every page, this is a perfect introduction to transport for 0 to 3 year-olds. You'll want to read this book again and again!
---