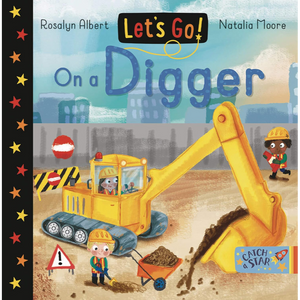 Let's Go on a Digger
Age Range: Babies
Age Range: 1 - 2
Age Range: 3 - 4

What happens when you climb into and drive a big digger? From scooping dirt, moving joysticks and emptying rocks, there's no end to the excitement of this digger ride.
"Let's go on a digger, And dig up lots of mud, I scoop it high into the air, And drop it with a thud."
This fun, rhyming book for babies and toddlers is vibrantly illustrated and includes a diverse set of characters. With lots to spot and see on every page, this is a perfect introduction to transport for 0 to 3-year-olds. You'll want to read this book again and again!
"Parents of little ones obsessed with pointing out tractors, diggers and other vehicles will be delighted to share this board book with their toddlers, and learn a bit of digger jargon (boom, treads and drive rods, for instance) into the bargain."―BookTrust
"This book is perfect for sharing with little ones that are inquisitive, as well as those who have family members that work in this industry, or just to learn about something new and interesting."―Sam Thomas
---