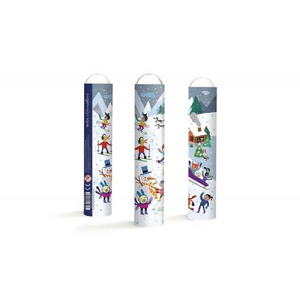 Kaleidoscope Winter in the Mountains
Age Range: 3 - 4
Age Range: 5 - 7

Made in Barcelona by Londji featuring the artwork of Mariana Ruiz Johnson.
Winter in the Mountains scene includes images of dogsledding, skating, skiing and snowshoeing.
This mix of kaleidoscopes is a cardboard & mirror kaleidoscope that is not the traditional style with loose bits inside. It is a cylinder of mirrors inside and the clear lens at the end which creates kaleidoscopic images of whatever you are looking at. All components are sourced within Catalonia.
---