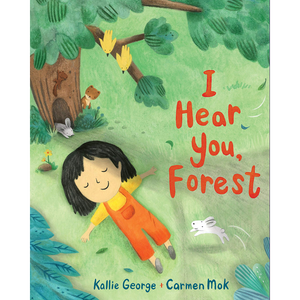 I Hear You, Forest
Age Range: 3 - 4
Age Range: 5 - 7

Kids will look forward to their next nature walk after reading this playful yet calming book about wonderful forest sounds.
The forest has lots to say… if you listen.
When a child steps into the forest, her ears are open and her heart is too. She listens carefully and hears marvelous things. She hears the rustling of leaves sharing their secrets. She hears a beetle balancing on a branch. And the more she listens, the more she learns.
I Hear You, Forest is a perfect book for outdoor education, classroom learning and homeschooling, helping to teach:
Empathy and connection with all living things
Mindfulness and appreciation with the world around us
That the forest is full of magical sounds—you just have to listen!
---