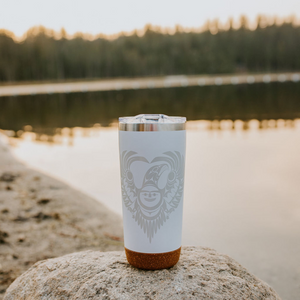 Cork Base Travel Mugs - Healing from Within by Francis Horne Sr., 20oz
Made from high quality food grade 304 stainless steel interior featuring a matte exterior with stylish cork base. This stylish double wall mug keeps drinks hot for 4 hours or cold for 12 hours, and comes packaged in a beautiful gift box.

Francis Horne, Sr.
Coast Salish
"Our art retells our ancestors stories about our connection to the land that we have respectfully lived on for thousands of years."
---