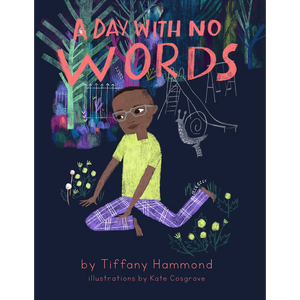 A Day With No Words
Age Range: 5 - 7

A
must-read that belongs in every home and classroom,
A Day With No Words
invites readers into the life of an Autism Family who communicates just as the child does, without spoken language
.


The American Library Association Booklist starred review boasts, "The story is written from the boy's first-person perspective, however—a clever choice in that it gives readers a direct look into his mind and reinforces the book's crucial statement that nonverbal people have as many words and as much intelligence as anyone else. Cosgrove's art, throughout, does an amazing job of transporting readers into his perspective, employing various color tones, metaphoric imagery, and 'camera' angles to reflect the deep expressiveness contained in every page [...] through this book, neurotypicals' eyes will be opened, and everyone in Autistic Families will feel seen—and heard."


A Day With No Words
is a colorful and engaging picture book for young readers shares what life can look like for families who use nonverbal communication, utilizing tools to embrace their unique method of "speaking."

The story highlights the bond between mother and child and follows them on a day where they use a tablet to communicate with others.

Written by an autistic mother of two autistic sons and the creator behind the popular @Fidgets.and.Fries social media platform and illustrated by Kate Cosgrove (IG @k8cosgrove),
A Day With No Words
successfully normalizes communication methods outside of verbal speech and provides representation of neurodiversity and autism in a way that affirms and celebrates.

---