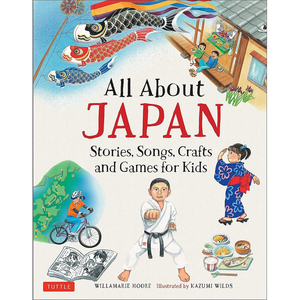 All about Japan
Age Range: 8 - 11

**2012
Creative Child Magazine
Preferred Choice Award Winner!**


A cultural adventure for kids,
All About Japan
offers a journey to a new place--and ways to bring it to life! Dive into stories, play some games from Japan, and learn some Japanese songs.

Two friends, a boy from the country and a girl from the city, take us on a tour of their beloved land through their eyes. They introduce us to their homes, families, favorite places, school life, holidays and more! Celebrate the cherry blossom festival Learn traditional Japanese songs and poems Make easy recipes like
mochi
(New Year's sweet rice cakes) and
okonomiyaki
(Japanese pizza or pancakes) Create origami frogs, samurai helmets and more!
Beyond the fun and fascinating facts, you'll also learn about the spirit that makes Japan one-of-a-kind. This is a multicultural children's book for families to treasure together.
---