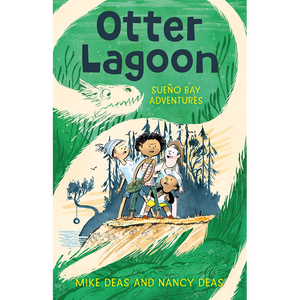 Otter Lagoon
Age Range: 5 - 7
Age Range: 8 - 11

The legend of the Lunar Serpentis is the tallest of tales…or is it?

The second graphic novel in the Sueño Bay Adventures returns to the Pacific Northwest, where a tiny island is experiencing extreme weather, a rash of shipwrecks and the disappearance of whole swaths of marine life. Is it climate change? A bad storm season? Or is something else going on?

Plucky and independent Jenna finds herself in some trouble after a dog in her care is injured. Desperate times call for desperate measures, and Jenna aligns herself with exotic animal dealers looking to make a quick buck off the local floral and fauna. When Jenna finds a rare egg, she unknowingly sets off a sequence of events that could mean the end of the peaceful village of Sueño Bay.

In spite of her attempts to keep them out of her business, Jenna can't keep her friends from poking around when the supernatural is involved. And soon enough this crew of young sleuths are in a race against time with the greatest Moon Creature of all, Lunar Serpentis.
Illustrated by: Mike Deas By (author): Nancy Deas
---