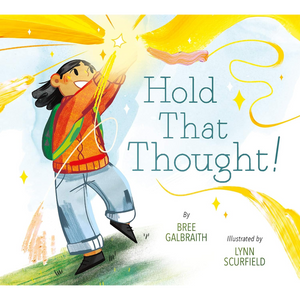 Hold That Thought!
Age Range: 3 - 4
Age Range: 5 - 7

An inspiring look at how ideas form, grow, and connect us all

In the middle of the night, Finn wakes up with something buzzing around in their head. It isn't heavy like a worry, it doesn't swirl like fear, and it isn't shaped like a question. It's something more exciting—an idea!
The next day at school, Finn shares the idea with friends, who nurture it and help shape it into something even more fantastic. But not everyone is excited about Finn's idea. When a bully knocks it to the ground, Finn begins to doubt the idea. And as Finn's doubt grows, their idea shrinks. But just before the idea disappears, Finn realizes that it's exactly as it should be! Confidence renewed, Finn shares the idea with more kids, who add their own thoughts until the idea flows—and even the bully becomes inspired to contribute.
Grounded in childhood curiosity and helmed by a gentle, inquiring main character, this story about the power of ideas fosters creativity, perseverance, inclusion, and a collaborative spirit.
---