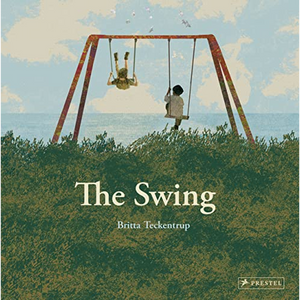 The Swing
Age Range: Adult
Age Range: 3 - 4
Age Range: 5 - 7

Britta Teckentrup's latest book for children of every age is a poetic masterpiece about the passage of time.


A swing on a hill overlooking the water is at the center of this lovely meditation on childhood, growing older, friendship and loss.

"The swing has always been in this place—ever since I can remember," declares the narrator. "Here we stood together, looking out to sea, waiting for something to change. . . for something new, something exciting. But every day was the same."

But as seasons change and years pass, things do change. Friends come and go, lovers meet and kiss, spring turns to autumn, and the swing set grows creaky with age.

All of these changes are gorgeously communicated by Teckentrup's signature collage paintings that employ soft, radiant colors and simple yet powerful compositions. With its equally compelling text, readers of every age will experience time as a gentle but inescapable force, bringing about new experiences.

And as the narrator grows older and wiser, readers themselves will understand that life's most important memories can never disappear.
---